Commercial Painting Services
Ross Property Services is a family-owned professional painting company serving the North Atlanta region. We are a local residential and commercial painting contractor providing high-quality services that exceed our customer expectations.
The quality of workmanship is our pride, and our attention to detail is a guarantee that we complete commercial painting projects to deliver the best results. Our expert commercial painters are well versed with the newest and best painting techniques and equipment to ensure they deliver a perfect finish to your commercial asset.
RPS is the most reliable painting company you can find. We deliver the painting and staining services you need for your business on time. We work around your unique scheduling requirements to minimize disruptions to your business operations.
SCHEDULE SERVICE
.
Professional Exterior Painting Services
A fresh coat of paint is a cost-efficient and fast way to revamp the image of your business. We have provided commercial painting services for many clients, from large property owners to small businesses. Therefore, you can trust us to get the job done right the first time for all your industrial or commercial complexes, such as:
.
Commercial Exterior Painting Benefits
To Enhance Your Establishment's Curb Appeal
A business with an attractive exterior makes a valuable impression on customers. Curb appeal is key to attracting potential new clients to your business. But you want an exterior commercial painting that lasts for years, not months. At RPS, we deliver spot-on results the first time to make your brand stand out and lift your business above the competition.
To Eliminate Any Signs of Neglect
Customers make snap judgments depending on the physical appearance of a business complex. In fact, they are quick to detect the signs of neglect, including the mold, stains, cracking, fading, peeling, and damage on your exterior paint.
Let your building exterior speak positively about your business to your clients by revamping it with a fresh coat of paint. Our commercial painting crew strips off the old paint and seals cracks that can impact the new paint and result in an unpleasant look.
SCHEDULE SERVICE
.
Professional Interior Painting Services
A clean and fresh interior painting reflects the care you have for your operations, your workforce, and your residents. It might look like a hassle to paint, especially due to ongoing business operations, but that is not the case when you engage professional commercial painting contractors such as RPS.
Our experience guarantees that you can trust us to get the painting job done without affecting your business activities. We will add a shade of professionalism to any interior business assets you wish, including:
.
Commercial Interior Painting Benefits
It Enhances Productivity
An upgrade to your business interior painting could be the spark you need to enhance your employee morale and creativity. Different color influences the way an individual feels. You can add blue to bring a relaxed ambiance, red for the energy boost, and green for a balanced feeling.
It Welcomes your Clients
Add a new look or style to the rooms facing your client when they enter your business premises to create a welcoming atmosphere.
It Protects your Asset
Environmental factors cause damage to a wall, and having good quality paint protects the walls from mold growth and structural damage.
It is a Cost-efficient Rebranding Strategy
Most customers judge businesses based on aesthetic factors. When you revamp your building, you inspire people to give more credibility to your business.
SCHEDULE SERVICE
.
Professional Staining for Commercial Properties
Decks must be well kept to give a great appearance. Unfortunately, different factors, including moisture and sun, affect wood and can cause a dull appearance or damage such as cracking. Therefore, staining services help to preserve the beauty of decks and wood finishings in your commercial premises and keep them in top-notch condition so that they stand the test of time. You can consider staining on interior and exterior assets such as:
.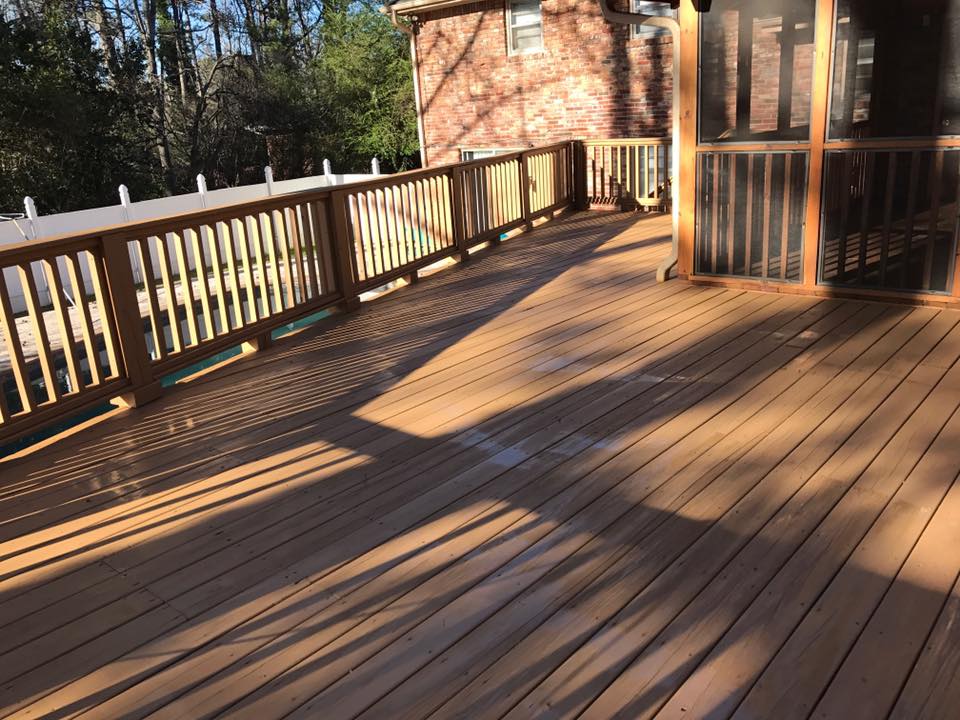 Our Commercial Deck Staining Process
Removal of any Chipped Paint
We start by removing any chipped paint present on the deck surface since it prevents the stain from adhering properly.
Cleaning
We move on to clean the deck, removing dirt and debris.
Power Wash
Our staining crew power-washes your deck to remove any resilient dirt, surface discoloration, and stains.
Sanding
We check for any coarse or rough areas on the deck and sand them out; otherwise, they would cause the new staining to peel off. Additionally, we sand out the old wood stain that is peeling off since it also compromises the integrity of the new stain.
Stain Application
Once the surface is clean and even, our experts move on to apply a protective stain. Our team adheres to necessary protocols to ensure a uniform deck finish that lasts for years.
SCHEDULE SERVICE
See Our Work