Commercial Glass Repair in Atlanta, GA
For all its aesthetic appeal and benefits, glass tends to accumulate scratches and stains over time. You'll likely have a difficult time trying to get rid of them without damaging the glass, but luckily our professional glass scratch removal services in Atlanta, GA are just a call away. Attempting to repair your glass on your own can lead to more scratches than you started with or cause even bigger problems like cracks or breaks on your glass.
We can effectively remove scratches using our commercial-grade equipment combined with specialized cleaning chemicals. Regardless of how big or how small the scratches on your glass are, we can polish and buff them out easily. After removing any scratches, we also thoroughly clean your glass surfaces. All of the chemicals we use are both kid and pet-friendly, so you won't have to worry about potential hazards on your property.
With our years of expertise in glass scratch removal, we can ensure that your windows will look brand new and sparkling clean. At Ross Property Services, we take pride in serving residents in Atlanta, GA with top-quality glass repair and guaranteed work!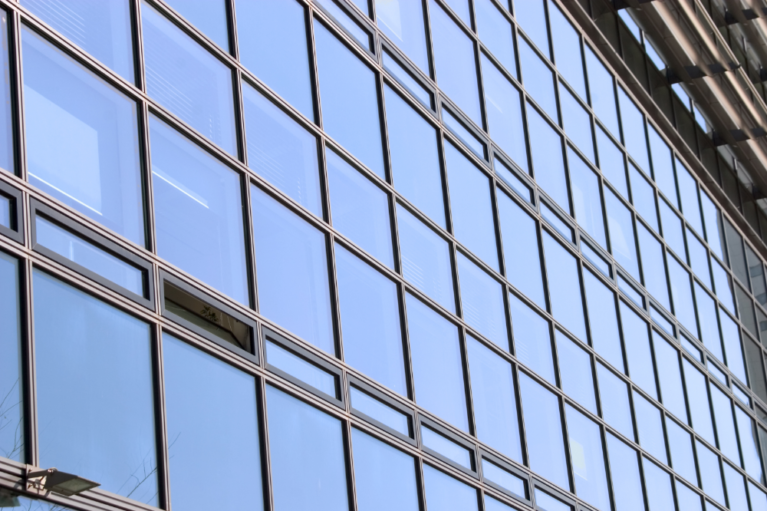 Commercial Glass Repair
Atlanta, GA
Many modern commercial buildings use large glass panels as building materials, due to their positive qualities. These panels can be treated to improve their thermal, acoustic, or visual performance. The outer facade of a building is typically double-paned glass for thermal transmittance and sun protection. Within the building, you might find plexiglass, frosted glass, and tinted glass used for various doors, windows, and walls. Various types of glass can be used depending on the business's needs, such as shatterproof glass for hurricane-proof windows, obscured glass for privacy, tempered glass for stronger windows, double-paned glass for better insulation, low-emissivity glass for blocking UV rays, and so on. The variety of ways glass gets scratched in homes also spans a wide range. Branches and stems from plants outside can rub against your windows and form scratches over time. Commercial glass outside of buildings is often scratched by inexperienced or careless cleaners using metal scrapers, or sometimes maintenance work happening nearby. If your building exterior is starting to look dull from scratches, our glass repair services can bring back that sleek shine. Contact Ross Property Services in Atlanta, GA for commercial glass repair.
Learn More