Ross Property Services – Pressure Washing Cumming GA
As a small business that is family-owned and operated, Ross Property Services provides exterior cleaning services that are backed by our superior customer service and a highly trained team of pressure washing professionals. In the Cumming GA area, our team works with both residential and commercial properties to provide high-quality pressure washing and exterior services. Our services are backed by 100% customer satisfaction to ensure that our services always exceed our high-quality standards. For years, homeowners and property owners have trusted our team to provide them with the pressure washing services they need to keep their homes and buildings looking great. In addition to pressure washing services, our team also provides gutter cleaning, soft washing, water sealing, and glass scratch removal services to keep every part of your building looking clean and brand new. Contact Ross Property Services today to learn more about our pressure washing Gainesville GA services, and to schedule an appointment with one of our property servicing specialists.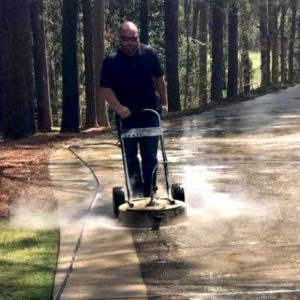 For Residential & Commercial Properties
Concrete, wood and metal surfaces can easily lose their clean appearance and original coloring due to the build-up of dirt and grime. Ross Property Services pressure washing services use the pressure of water mixed with cleaning liquids specialized for each surface to safely remove dirt and restore the natural appearance of the exterior surface. Our team goes above and beyond to clean into each crack and crevice and even the hardest to reach areas to achieve a complete and thorough finish. To learn more about our pressure washing Cumming GA services, contact us today!
Tennis court cleaning with the team at Ross Property Services restores the appearance of tennis courts by clearing away the build-up of dirt and grime. Over time, tennis courts can begin to look worn down and faded due to years of constant use and weather conditions such as rain and winds. Our tennis court cleaning services in Cumming GA powerfully remove the damage built up over the years, without stripping away the paint or affecting the texture of the tennis court surface. Our highly trained professionals take care to ensure they safely operate our commercial-grade equipment, and utilize the correct cleaning chemicals to effectively clean the tennis court surface safely. With years of experience, our team can help to restore the appearance of the tennis court and maintain its well-kept appearance all year round. Contact us today to schedule a tennis court cleaning in Cumming GA.
For Residential & Commercial Properties
The roof is one of the most important parts of any home or building. Unfortunately, it often is forgotten and not well maintained. Homeowners and commercial property owners may forget to regularly inspect their roof for any damage or debris, and can be left with large and costly roof repair bills. Roof cleaning from a professional, such as Ross Property Services, should be a regular maintenance service for the home or commercial property in order to clean and inspect the roof while checking for any leaks or damages. After a storm, it's also important to schedule a roof cleaning service in order to clear away debris and ensure the storm didn't cause any major damages.
Ross Property Services offers both residential and commercial roof cleaning services in Cumming GA in order to help protect homeowners and commercial property owners from major roof damages. Our team of roof cleaning professionals not only clean the roof of any debris and buildup, but also inspect for any damages and leaks before they become serious.
With our roof cleaning Cumming GA services, you can feel confident that your roof is well maintained and safely protecting your home in every weather condition. For more information about our roof cleaning services, or to schedule an appointment in Gainesville GA, contact us today!
For Residential & Commercial Properties
Looking to remove those annoying scratches on your windows in a safe and effective way? Ross Property Services offers glass scratch removal services in Cumming GA for both residential and commercial properties to effectively remove scratches without damaging the glass or window frame. Our team uses commercial-grade equipment and cleaning chemicals that powerfully remove scratches, but are safe enough to be used around family members, children, and pets. With years of experience working with homeowners in Cumming GA, Ross Property Services has the experience to help you restore the appearance of your glass surfaces.
For glass scratch removal Cumming GA services, contact Ross Property Services today!
SCHEDULE SERVICE